29 May 2020
Image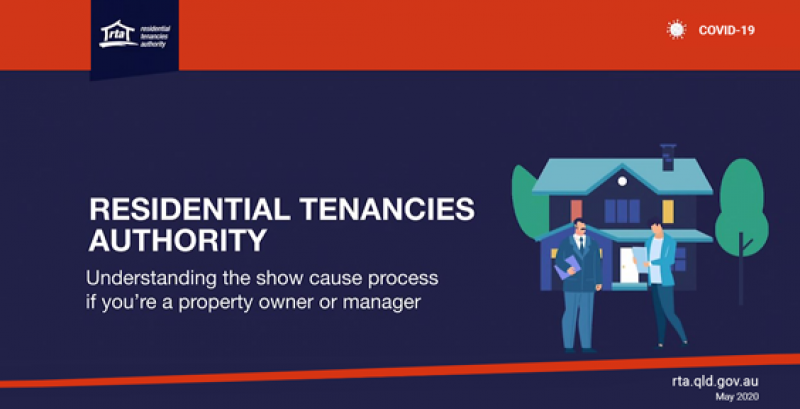 29 May 2020
When a tenant has fallen behind in their rent during the COVID-19 emergency period, a property owner/manager may need to issue a Show cause notice for rent arrears to the tenant. This notice should prompt discussions between the tenant and the property manager/owner about changes to their circumstances to try and resolve the situation.
The Show cause notice provides the tenant with two options as a way forward:
Respond and provide evidence that the rent arrears are a result of financial hardship caused by the COVID-19 pandemic.

It is up to the parties to negotiate and agree on the level of detail and evidence provided to support the tenant's COVID-19 related financial hardship. You may refer to examples of documents in the Residential Tenancies Practice Guide.

The Residential Tenancies Authority (RTA) strongly encourages tenants and property owners/managers to work together and discuss their situation with each other in the first instance. A temporary rental amount or variation to the current tenancy agreement can be negotiated between the parties. Any agreed outcomes or temporary rental arrangements should be documented using the RTA's tenancy variation agreement forms.
 
Pay the rent arrears and continue to pay the rent.
A tenant has obligations to pay their rent when it is due, as outlined in their current tenancy agreement.
If the tenant does not pay the rent arrears, does not respond to the Show cause notice or cannot provide evidence that their financial hardship is a result of COVID-19, the property owner/manager can follow the normal Notice to remedy breach process.
For more information call 1300 366 311, Monday - Friday, 8.30am - 5pm (excluding public holidays)