The Residential Tenancies Authority (RTA) is working in conjunction with the Department of Housing and QLD Statewide Tenant Advice and Referral Service to support QShelter's Opening Doors initiative, which provides potential tenants with assistance to enable them to rent privately.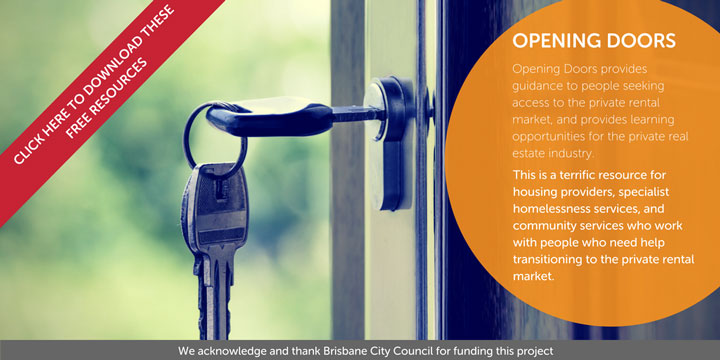 Common challenges to finding affordable private rental include proof of income, rental history and moving expenses, and many Queenslanders mistakenly believe that private renting is beyond their financial means. However, finding and keeping housing in the private market is not impossible if you know where to get support.
Opening Doors provides a free toolkit to help potential tenants find affordable private rental accommodation in Queensland.
RTA Chief Executive Officer Jennifer Morgan said finding and maintaining appropriate accommodation was extremely important for tenants, and could help improve many other aspects of people's lives.
"It is important to know where to ask for help if you are having difficulty entering the private market, and to know what your rights and responsibilities are once you have secured accommodation," said Ms Morgan.
"Many people think that renting privately is outside their financial means, but with a little bit of assistance, this doesn't necessarily have to be the case. In fact, Queensland has the largest private rental market of all the Australian states with 34 per cent of Queenslander's renting their homes."
When Queenslander John Besley needed to move to Brisbane unexpectedly for medical treatment, he was surprised to find that he had private rental options available to him that he initially thought were beyond his financial means. The Department of Housing helped him with the necessary forms and the information that was required to secure private rental that met his needs.
"For the amount of money that I had and the private rentals available, I didn't think that renting from a private landlord would be an option, but it is," said Mr Besley. "Getting that help made me feel a lot better."
Access the free Opening Doors toolkit courtesy of QShelter.