9 Aug 2019
Image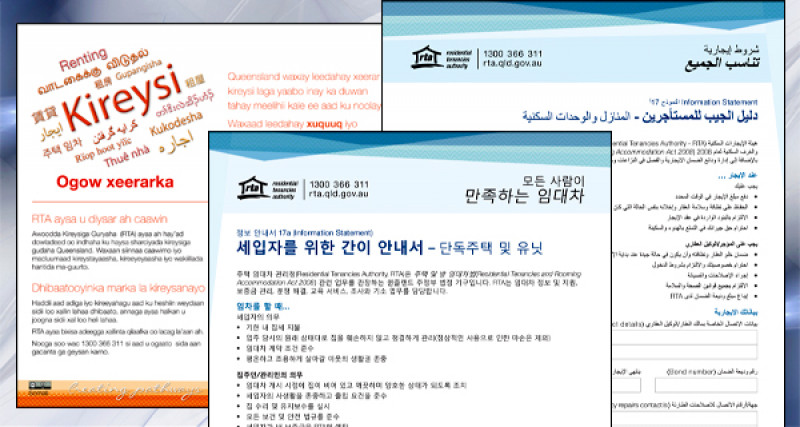 Australia is one of the most culturally diverse countries in the world. According to the last census, 21% of Australians speak a language other than English at home and more than 1 in 10 Queenslanders speak a language other than English at home.
With more than one third of Queenslanders renting, the Residential Tenancies Authority (RTA) works to inform and educate people about their tenancy rights and responsibilities. Through our website, print and electronic publications, several free services are accessible to the Queensland renting community, including those who speak languages other than English.
The Pocket guide for tenants – houses and units is available to download from the RTA's website in seven languages other than English. These include Arabic, Japanese, Korean, Spanish Chinese (Simplified and Traditional) and Vietnamese.
This handy pocket guide answers the most commonly asked questions about tenancies including: repairs, rent payments, lease agreements and rental bonds. This guide must also be provided to tenants when they rent a property.
A mini guide is also available in eight languages other than English, giving tenants an overview of their renting rights and responsibilities. Renting – know the rules mini guide is available in the following languages:
The RTA is committed to providing services and information resources for everyone in the rental sector, including those from culturally and diverse backgrounds, as part of our commitment to making renting work for everyone.
Other languages: You can access a free interpreter service by calling the RTA on 1300 366 311 (Monday to Friday, 8:30am to 5.00pm).
Original publication on 09 Aug 2019
Last updated on 19 Dec 2022
Note: While the RTA makes every reasonable effort to ensure that information on this website is accurate at the time of publication, changes in circumstances after publication may impact on the accuracy of material. This disclaimer is in addition to and does not limit the application of the Residential Tenancies Authority website disclaimer.