Image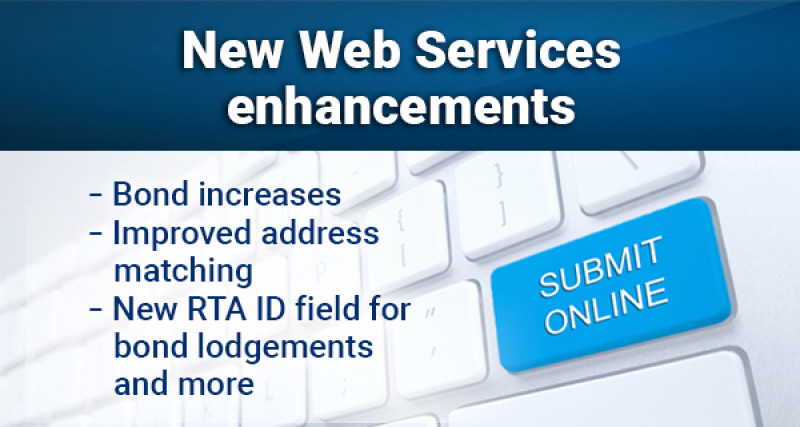 11 Feb 2020
11 February 2020
The Residential Tenancies Authority (RTA) has launched a series of enhancements to RTA Web Services this week, making it even easier for customers to process essential tenancy transactions online, particularly for bond lodgements and bond increases.
These enhancements will:
enable customers to increase their bond online quickly and easily via our Bond Lodgement Web Service, if the rent increases during their tenancy
make it faster for property managers/agents to lodge a single bond online by introducing the RTA ID field to the Bond Lodgement Web Service. This will remove the need for property managers to enter their organisation's details every time they lodge a bond, reducing effort and improving ease of use.
RTA Chief Executive Officer Jennifer Smith said the Web Services enhancements were shaped and informed by customer feedback.
"We've been listening to what our customers want and we are always working to improve their experience when doing business with the RTA," Ms Smith said.
"With more than one-third of Queenslanders renting, and that number increasing, it's more important than ever that our customers can complete essential tenancy transactions securely, quickly and easily.
"In the months ahead, we will focus on developing additional Web Services including change of bond contributors, to continue improving the online experience for our customers."
The latest enhancements follow the successful launch of Web Services for bond refunds, bond disputes and updating customer details in December 2019.
Further resources to support customers with the new enhancements are available on the RTA website, including quick guides, frequently asked questions (FAQs) and video content. A dedicated phone line has been established within the RTA Contact Centre to support customers.