22 Sep 2021
Image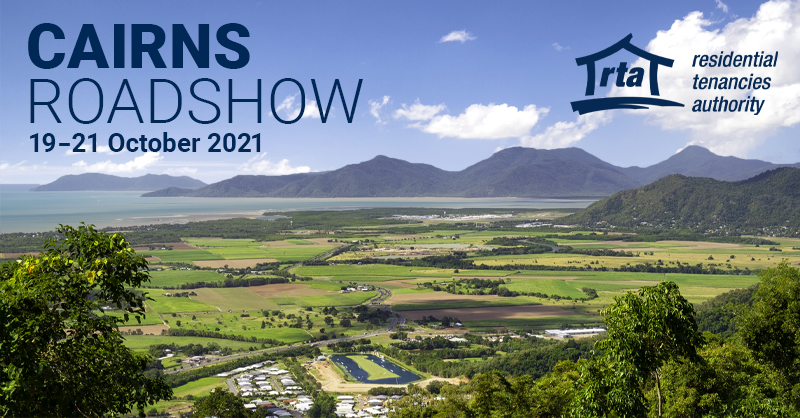 The Residential Tenancies Authority (RTA) is heading to Cairns in October to deliver two free information sessions for property managers and property owners in the region. 
Experienced RTA staff will provide tailored information to help you: 
understand and clarify your rights and responsibilities under current tenancy laws 
learn about proposed changes to Queensland's rental laws 
find out how to make the most of our support services and Web Services for essential bond and tenancy transactions 
learn more about the RTA's investigations and compliance role 
have your questions answered to help you manage tenancies and prevent disputes. 
These sessions will be held in Novotel Cairns Oasis Resort (122 Lake Street, Cairns). 
Cairns will also play host to the RTA's first regional board meeting for 2021. Local sector representatives will have an opportunity to engage with the RTA and share what matters to them and the communities they represent.  
RTA Chief Executive Officer Jennifer Smith encourages all interested locals to register for the two free sessions.  
"We are excited to extend our regional connections in the Cairns region and support the community in-person after the event was postponed due to COVID-19 travel restrictions earlier this year," Ms Smith said. 
"The Queensland renting community has continued to work hard during the past year to cooperate and adapt to the changing and challenging times we've faced." 
"We hope our events will provide an opportunity for local property managers and owners to safely reconnect in person, ask questions, share their insights and experiences and learn more about how our free services can best support them in their work."  
For more information, please contact the RTA events team. 
You can access further tenancy information and education materials – including past webinars and podcasts – on the RTA website.  
You can also subscribe to receive the latest news and events from the RTA direct to your inbox.  
Original publication on 22 Sep 2021
Last updated on 22 Sep 2021
Note: While the RTA makes every reasonable effort to ensure that information on this website is accurate at the time of publication, changes in circumstances after publication may impact on the accuracy of material. This disclaimer is in addition to and does not limit the application of the Residential Tenancies Authority website disclaimer.