15 May 2020
Image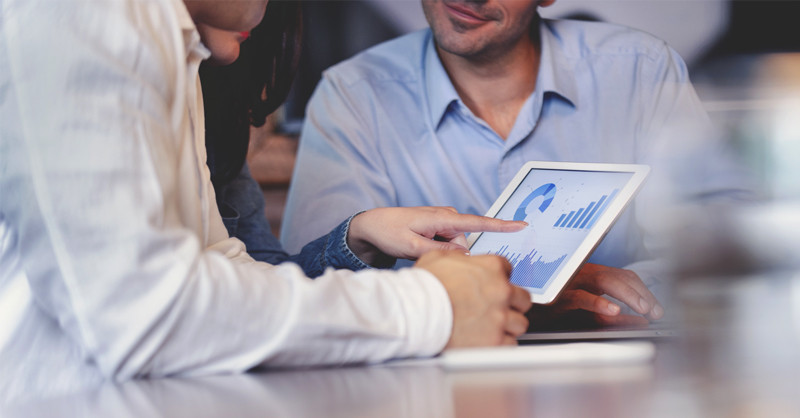 15 May 2020
The Residential Tenancies Authority (RTA) has assisted Queenslanders facing financial hardship due to COVID-19 to successfully negotiate and resolve 442 rental disputes since new temporary tenancy laws were passed three weeks ago.
RTA Chief Executive Officer Jennifer Smith thanked tenants, property owners and property managers for their cooperation so far to reach reasonable and shared agreements.
"We are encouraged by these figures which show tenants and property owners are listening and working together to make renting work for everyone," Ms Smith said.
"We've taken more than 23,000 calls from Queenslanders via our COVID-19 information hotline, and we've resolved 92 per cent of conciliated disputes.
"So far our free conciliation service has been able to help people find a resolution within five days on average, keeping people safe and in their homes and protecting property owners' investments during this difficult time."
To support Queenslanders during the COVID-19 pandemic, the RTA immediately expanded its contact centre staff and is doubling its dispute resolution staff to ensure support is available when needed.
"Our role at the RTA is to provide information and free support services for tenants, property owners and managers," Ms Smith said.
"We know that this is a difficult time for many Queenslanders and our number one priority is to ensure that tenants and property owners can access independent and impartial support that will help them to understand their rights and obligations and negotiate a new agreement during this time.
"We encourage tenants and property owners impacted by COVID-19 to keep each other updated on their changing circumstances and situations in the months ahead, and clearly document any shared decisions and timeframes made."
Queenslanders who haven't been significantly impacted by COVID-19 must continue to meet their rental responsibilities, including paying rent.
To learn more about what the COVID-19 tenancy changes mean for you, visit rta.qld.gov.au/covid.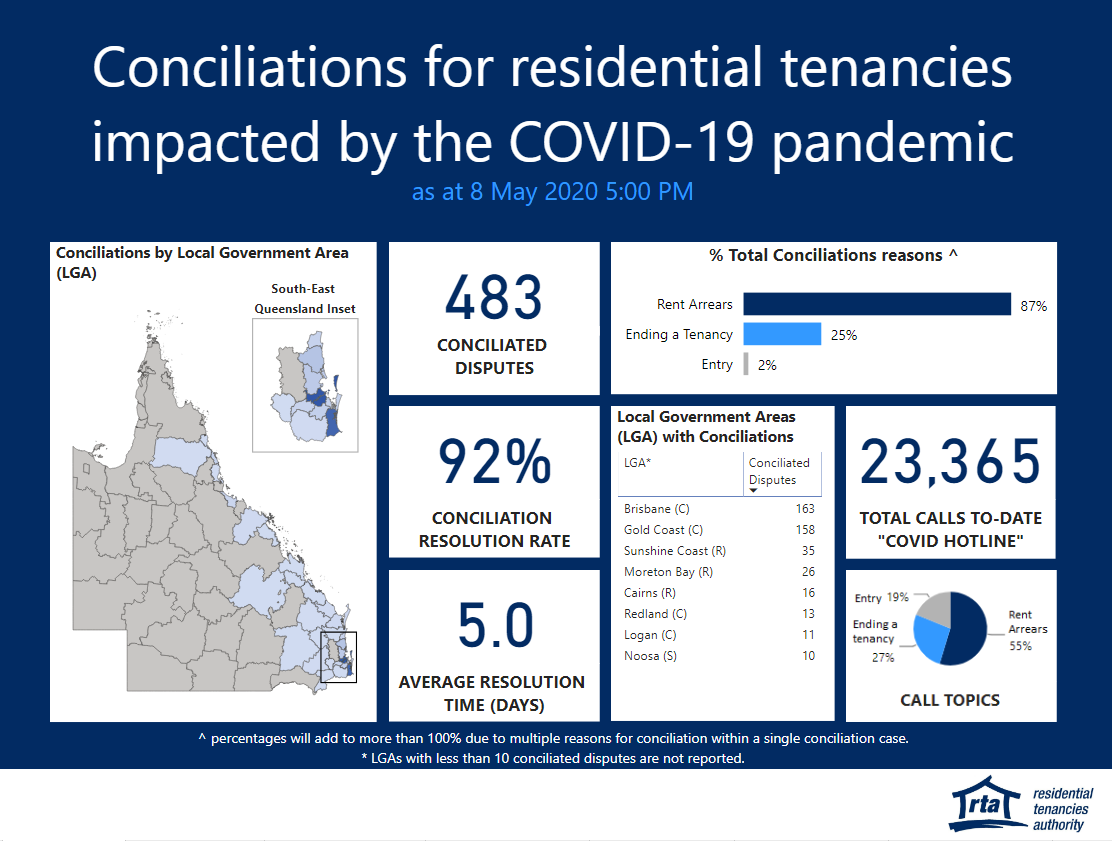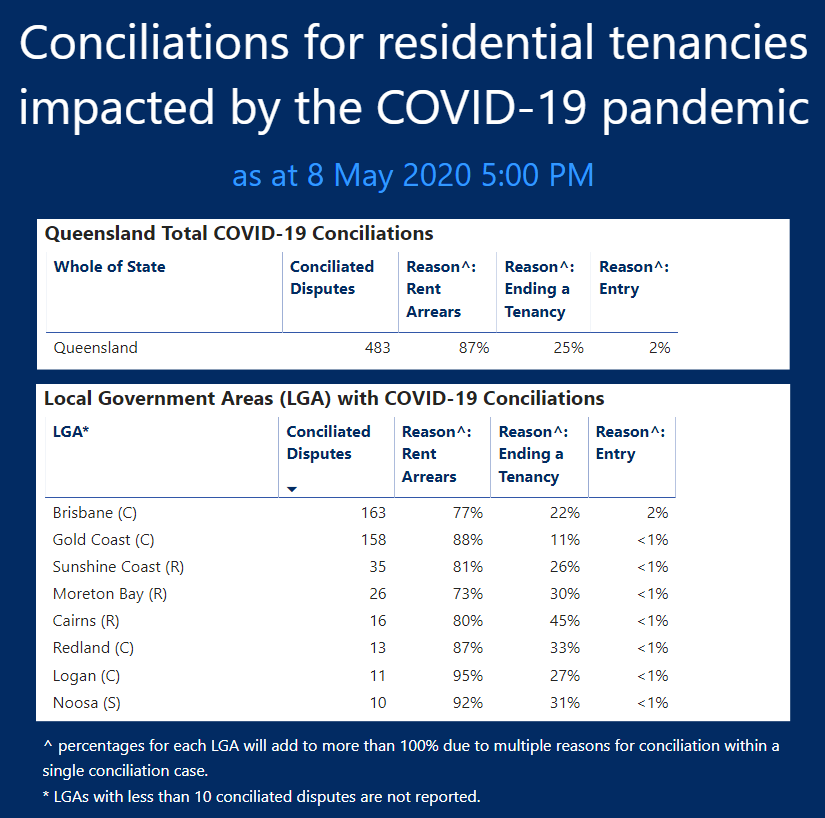 **Notes for editors
The data referenced in this media release is correct as at 5pm on Friday 8 May 2020.
The RTA intends to publish COVID-19 tenancy statistics weekly until further notice.
As of 5pm on 8 May, the total number of COVID-19 conciliated disputes was 483, with 442 (92%) resolved and 41 (8%) unresolved.
The RTA is the Queensland Government statutory authority that administers the Residential Tenancies and Rooming Accommodation Act 2008 and works with all sector groups including tenants, property managers and owners, community and industry stakeholder groups and the Queensland Government.
On 29 March 2020, National Cabinet agreed that states and territories would implement a moratorium on evictions for residential tenancies in financial distress due to the impacts of COVID-19.
The temporary Queensland changes are effective during the COVID-19 emergency, which at this stage lasts until 31 December 2020.
Under the new temporary laws, tenants and property owners who are unable to reach an agreement together are required to undertake RTA conciliation for disputes relating to rent arrears.