29 May 2020
Image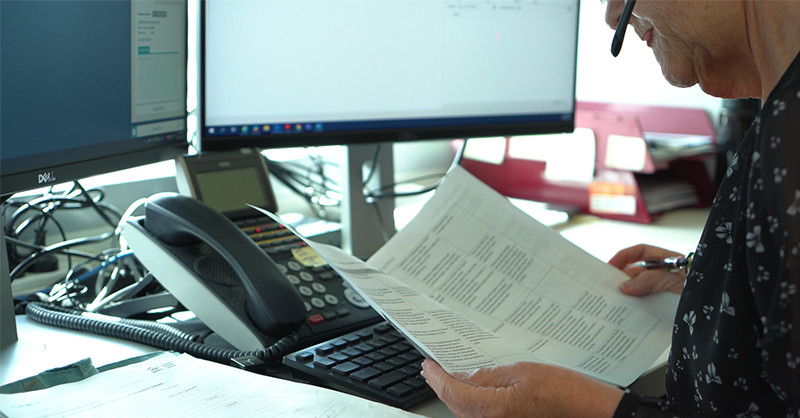 29 May 2020
More than 26,000 Queenslanders have called the Residential Tenancies Authority (RTA) for tenancy information and support during COVID-19.
In releasing its weekly COVID-19 conciliation figures, RTA Chief Executive Officer Jennifer Smith thanked everyone in the residential rental sector for their efforts to protect the health and homes of Queenslanders impacted by the pandemic.
"In these past few weeks we've taken 26,820 calls, and in the 915 conciliated disputes we've helped to resolve we've seen some great examples of people being prepared to have some tough conversations and reach reasonable agreements," Ms Smith said.
"I'm so proud of our dedicated team who have stepped up during this difficult time and made sure Queenslanders were able to access the information they needed to support their tenancies and properties."
To ensure it could meet the needs of Queenslanders during the COVID-19 pandemic, the RTA established a dedicated COVID-19 hotline and increased its call centre capacity and dispute resolution teams.
With restrictions now being eased and more people returning to their jobs, Ms Smith said it was critical that tenants and property owners impacted by COVID-19 who had negotiated temporary rent changes kept each other up to date of their circumstances.
"During this time, we know circumstances can change quickly, so it's important you make the other parties aware if your situation changes as it may impact any temporary agreements you've reached previously," Ms Smith said.
As an independent and impartial statutory authority, the RTA provides a free dispute resolution service to help tenants, property owners and managers negotiate temporary rental agreements when they have been unable to self-resolve together.
"I encourage anyone who has any questions about the COVID-19 changes or needs assistance in negotiating a temporary agreement to get in touch with us," Ms Smith said.
"As part of our free dispute resolution service, we talk to tenants, property owners and property managers, look at everyone's circumstances and facilitate respectful conversations that help people reach temporary agreements."
To find out more about how the RTA can help you during the COVID19 pandemic, please visit rta.qld.gov.au/covid.
Image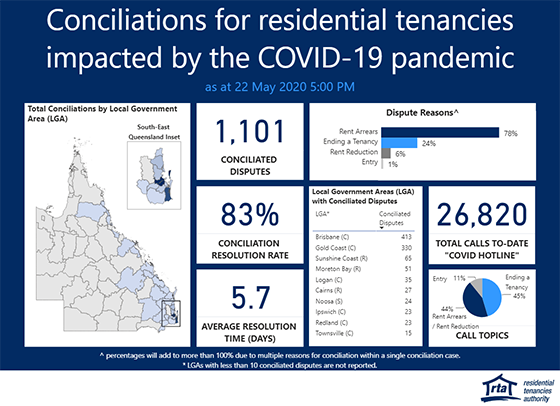 Image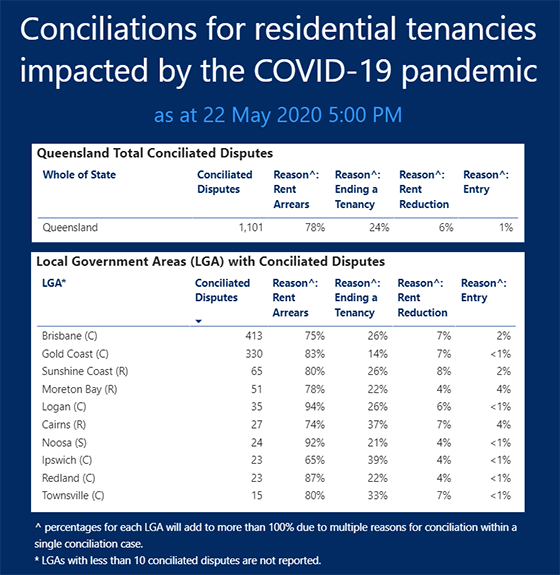 **Notes for editors
The data referenced in this media release is correct as at 5pm on Friday 22 May 2020.
The RTA intends to publish COVID-19 tenancy statistics weekly until further notice.
As of 5pm on 22 May, the total number of COVID-19 conciliated disputes was 1101, with 915 (83%) resolved and 186 (17%) unresolved.
The RTA is the Queensland Government statutory authority that administers the Residential Tenancies and Rooming Accommodation Act 2008 and works with all sector groups including tenants, property managers and owners, community and industry stakeholder groups and the Queensland Government.
On 29 March 2020, National Cabinet agreed that states and territories would implement a moratorium on evictions for residential tenancies in financial distress due to the impacts of COVID-19.
The temporary Queensland changes are effective during the COVID-19 emergency, which at this stage lasts until 31 December 2020.
Under the new temporary laws, tenants and property owners who are unable to reach an agreement together are required to undertake RTA conciliation for disputes relating to rent arrears.