19 Apr 2022
Image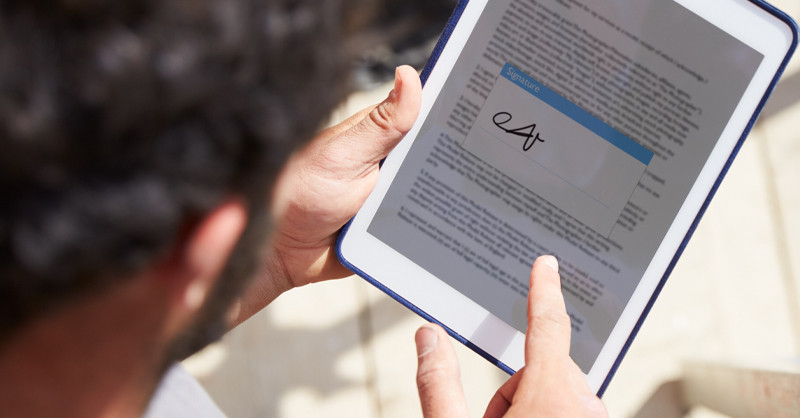 In our digital age, it has become common practice for property managers/owners to use electronic signature apps as a way for everyone to sign and return documents.
During COVID-19, the removal of in-person transactions was especially evident as more people relied on digital platforms to sign documents or on downloading PDF agreements to print, sign and return.
However, it is important for property managers/owners to understand the legislative requirements around electronic signatures and to be aware that not every tenant has the capability or desire to participate in electronic signing. Not everyone has a printer or an email address, and not everyone is digitally savvy.
Property managers/owners are encouraged to speak with their tenants to ensure they agree to receive and sign electronically, or if they'd prefer to manually sign an agreement on paper.
It is a legal requirement for all tenancy or rooming agreements to be put in writing. The  Residential Tenancies and Rooming Accommodation Act 2008 (the Act) requires prospective tenants be given a copy of the proposed tenancy agreement before they are committed to the tenancy.
This means the tenant must receive a copy of the tenancy agreement before they sign or pay any money. This provides them with the opportunity to review the agreement, including any special terms or annexures, so they can make an informed decision before they sign.
The Act also states that the tenant has five days to sign and return a tenancy agreement to the property manager/owner. The property manager/owner then needs to ensure the tenant receives a fully signed copy of the final agreement within 14 days.
If the tenant is signing the tenancy agreement via an electronic signature app, they are encouraged to save a copy while they wait for the property manager/owner to send the fully signed final version.
Tenants should ensure they read any documents the property manager/owner sends to them and check they have access to all pages of electronic documents.
Property managers should also be aware that there are legislative requirements they must comply with in relation to the electronic signing of documents. These are in addition to any requirements under the Act.
Original publication on 19 Apr 2022
Last updated on 20 Apr 2022
Note: While the RTA makes every reasonable effort to ensure that information on this website is accurate at the time of publication, changes in circumstances after publication may impact on the accuracy of material. This disclaimer is in addition to and does not limit the application of the Residential Tenancies Authority website disclaimer.