Image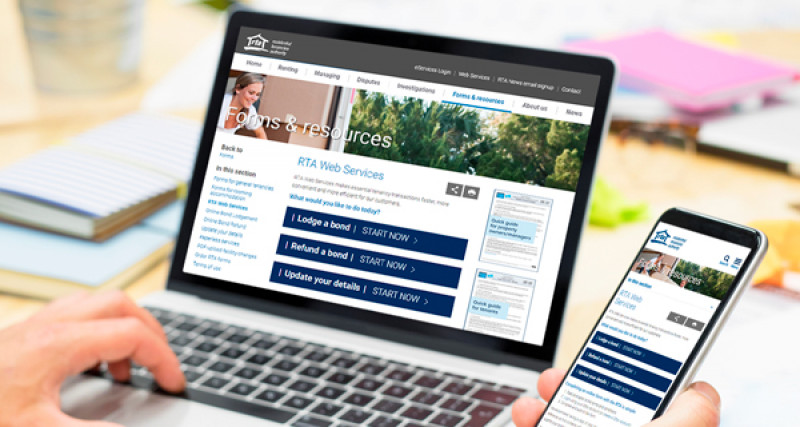 15 Jan 2020
15 January 2020
Queenslanders are embracing the RTA's new end-of-tenancy Web Services, with 20 per cent of customers now lodging their bond refunds online.
The RTA launched digital bond refunds as part of a suite of Web Services in December, to make end-of-tenancy services quicker and easier. We also included an Update Your Details Web Service and an option for customers to lodge a bond refund dispute online.
The launch of the new end-of-tenancy Web Services followed the successful introduction of online bond lodgements in mid-2019, offering customers a convenient and environmentally sustainable digital alternative to all parties signing a paper form and submitting it to the RTA for processing. Almost 40 per cent of RTA customers are now lodging a bond using this Web Service.
The next step in the RTA's digital transformation is to launch a series of Web Service improvements in February to improve customer experience. The RTA has been listening carefully, and these improvements are being introduced in response to customer feedback. They will:
Introduce a bond increase option – where customers can top up their bonds quickly and easily online if the rent increases during their tenancy

Make it easier for property managers/agents with an RTA ID to lodge a bond online, by removing the need for them to enter their organisation's details every time they use the Bond Lodgement Web Service

Match and validate customers' addresses – to ensure details are correct and improve the accuracy and speed of the Web Services process.
Resources to support RTA customers using the new Web Services are available on the RTA website. These include instructional quick guides, frequently asked questions (FAQs) and helpful videos. 
Important reminder
From 1 February 2020: the PDF upload facility for paper bond refund forms will be replaced by the Bond Refund Web Service. Customers will still be able to download bond refund forms from our website, or order single printed copies via the website or by calling 1300 366 311. Printed forms should be sent to the RTA by post.