31 Aug 2021
Image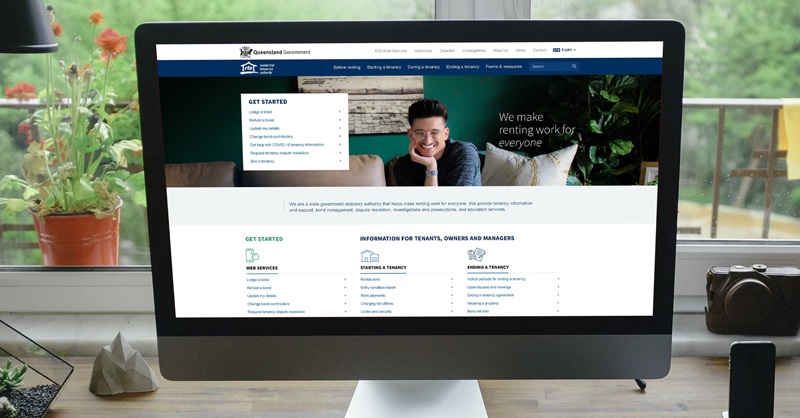 As part of ongoing efforts to improve the RTA customer experience, the Residential Tenancies Authority (RTA) has released a website refresh. 
This website refresh comes 14 months after the launch of the RTA's new-look website.  
These changes have been informed by RTA website trends and insights gathered during this time and the revised functionality, structure and content is designed to enhance the digital experience for customers by delivering:  
improved access to information through website search and navigation 
a more intuitive website structure that better reflects and connects the information needed by customers at the key stages of the tenancy lifecycle 
redesigned and consistent landing pages, including for Web Services with reduced steps to start a bond refund request 
reduced duplication of content and easier to understand, practical information 
consolidated access to resources, forms, fact sheets, podcasts and webinars 
changes to how general tenancies forms and rooming accommodation forms are displayed, now providing a consolidated list view to replace the previous table view 
a comprehensive, visual and searchable library view for our educational resources and publications, including podcasts and webinars. 
These changes also enable the RTA to update and publish content and resources (such as forms) more efficiently, allowing customers earlier access to essential tenancy information and resources while saving staff time and resources. 
Key reminders for customers 
As the structure of the RTA website has changed significantly, some existing links and bookmarks to specific web pages within the site may break. The RTA has minimised inconvenience to customers by putting automatic URL redirects in place for key web pages. However, there may be some instances where customers will need to create new bookmarks for frequently used pages after 31 August. 
There may also be a short period of time after 31 August where online search engines, such as Google, will be reindexing the site and RTA web content and resources links. During this time, customers should use the search bar built into the rta.qld.gov.au website to help them navigate easily.  
Please note that direct links to RTA Web Services and eServices, and the services themselves, remain available for customers and are not impacted by this change.
Original publication on 31 Aug 2021
Last updated on 30 Aug 2021
Note: While the RTA makes every reasonable effort to ensure that information on this website is accurate at the time of publication, changes in circumstances after publication may impact on the accuracy of material. This disclaimer is in addition to and does not limit the application of the Residential Tenancies Authority website disclaimer.