16 Dec 2022
Image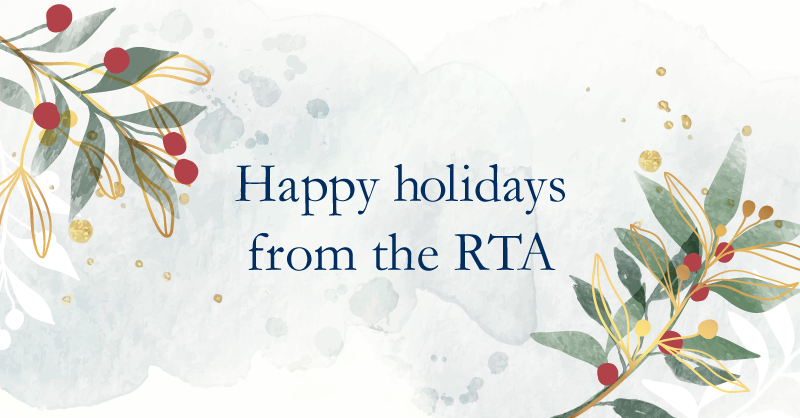 RTA Chief Executive Officer Jennifer Smith looks back on our major milestones and achievements this year.
As we approach the festive season and 2022 draws to a close, I wanted to take the opportunity to thank our customers and stakeholders for your support and reflect on what we have achieved this year at the Residential Tenancies Authority (RTA).  
We are proud to have supported Queenslanders to prepare for and navigate the significant rental law changes that came into effect on 1 October. This included publishing new educational resources and delivering 25 in-person information sessions to more than 2300 people across the state. 
 
Another significant milestone for 2022 was the launch of our new RTA Strategic Plan 2022–26 in July. Informed by staff and stakeholders, our new plan better positions us to focus on and respond to the challenges and opportunities within Queensland's changing rental sector.  
 
In September, we published our RTA Annual Report 2021–22. During the financial year, our staff answered over 368,000 calls, conciliated over 19,000 disputes, and achieved a customer satisfaction rating of 83 per cent for our services. These figures demonstrate our ongoing commitment to serving and connecting Queensland.  
This year, we undertook a major strategic project to listen to and map the many RTA customer journeys and identify how we can tailor and positively transform our processes and services. We also launched a new framework to improve how we manage customer complaints, and we refreshed our Contact Centre standard responses, which now focus on asking more clarifying questions to support the delivery of consistent and accurate information.
  
We have much work ahead of us in 2023, as we prepare to implement minimum housing standards in September, continue to partner with our community and industry stakeholder groups, and support our customers at this challenging time within Queensland's residential rental sector. I look forward to seeing what we can achieve together in the year ahead to make renting work for everyone.  
On behalf of the RTA, have a safe and happy holiday season and all the best for the year ahead.
 
Original publication on 16 Dec 2022
Last updated on 16 Dec 2022
Note: While the RTA makes every reasonable effort to ensure that information on this website is accurate at the time of publication, changes in circumstances after publication may impact on the accuracy of material. This disclaimer is in addition to and does not limit the application of the Residential Tenancies Authority website disclaimer.